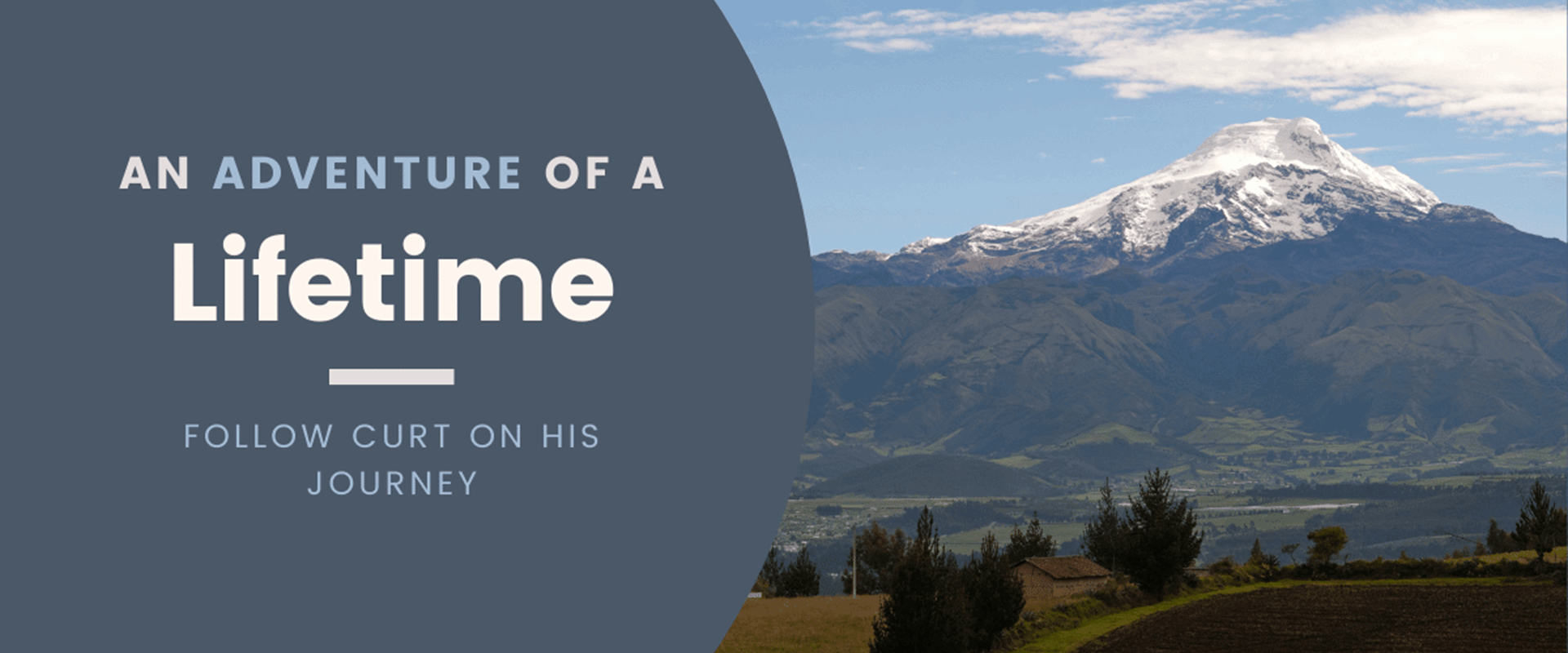 Our very own Senior Vice President Curt Carlson will be taking on an adventure that is considered one of the toughest challenges for adventure travelers in the Western Hemisphere.  Curt will be embarking on a mountain climbing trip that will take him over 18,000 feet.  Yes, you read that correctly. He will be climbing mountains that are over 18,000 feet above sea level.  That is cruising altitude for some airplanes!  This blog post is the first post about Curt's Adventure of a Lifetime.  We will keep you updated on his journey with a series of blogs and social media posts.  So, make sure you follow us on LinkedIn, Twitter, Facebook and Instagram. 
Trip Details 
His trip will take him to Ecuador, where he will be taking on the "Avenue of Volcanoes"  with mountain climbing experts Mountain Madness.  The tour Curt chose is called Volcanoes Around Ecuador: Guided Mountaineering on Cayambe, Cotopaxi, and Chimborazo.  His mountain climbing adventure will consist of 14 fun-filled days of climbing and sightseeing through the region.  The first mountain he will trek is Cayambe, which is 18,996 feet above sea level.  After a few days of resting and sightseeing, Curt will climb the world's highest active volcano, Cotopaxi.  If you didn't think climbing an active volcano was crazy enough, Curt and his climbing partners will take on attempting the summit of Ecuador's highest peak at Chimborazo. 
Choosing the Right Travel Insurance 
Mountain climbing is not a cheap hobby, especially if you are traveling to Ecuador for 14 days.  Curt will have to pay for many things such as his flight, lodging, meals, equipment and guides.  All of these items add up, making his trip an expensiveone.  Curt is not the average traveler. He is an adventure traveler looking to take on some of the most challenging mountains in the western hemisphere.   So, his trip is going to cost way more than the average vacation trip.  Knowing this and being a travel insurance expert, he has to decide on what type of travel insurance to purchase.  Luckily for Curt, he is the Senior Vice President of Trawick International and played a huge hand in developing our SafeTreker Adventure Travel Insurance. 
This type of insurance is designed to provide adventurers like Curt with the protection they need when traveling and taking on an experience like this.  SafeTreker is an adventure travel insurance product designed to covernumerous sportingactivities.  This adventure travel Insurance offers varying levels of benefits and coverage, depending on your budget and travel needs. 
The policy that Curt chose to protect his investment is SafeTreker Extreme+.  He chose this plan because it covers his mountain climbing activity and providesup to $10,000 for Trip Cancellation/Trip Interruption coverage with up to $100,000 Accident and Sickness Medical Coverage, up to $3,000 for baggage, Search and Rescue up to $10,000 and Sports Equipment Rental protection up to $3,000.  This insurance provides Curt with confidence knowing his eligibletravel and adventure expenses may be protected so he can focus on getting his gear ready and training for this Adventure of a lifetime! 
Follow Curt's Journey 
There is nothing like a good adventure story and since Curt is one of us, we feel compelled to document his journey and help other adventure travelers understand more about our SafeTreker Adventure Travel Insurance.  So, follow this blog series and follow Trawick International on social media to keep up with our guy.  Good luck, Curt!  You got this and stay safe!