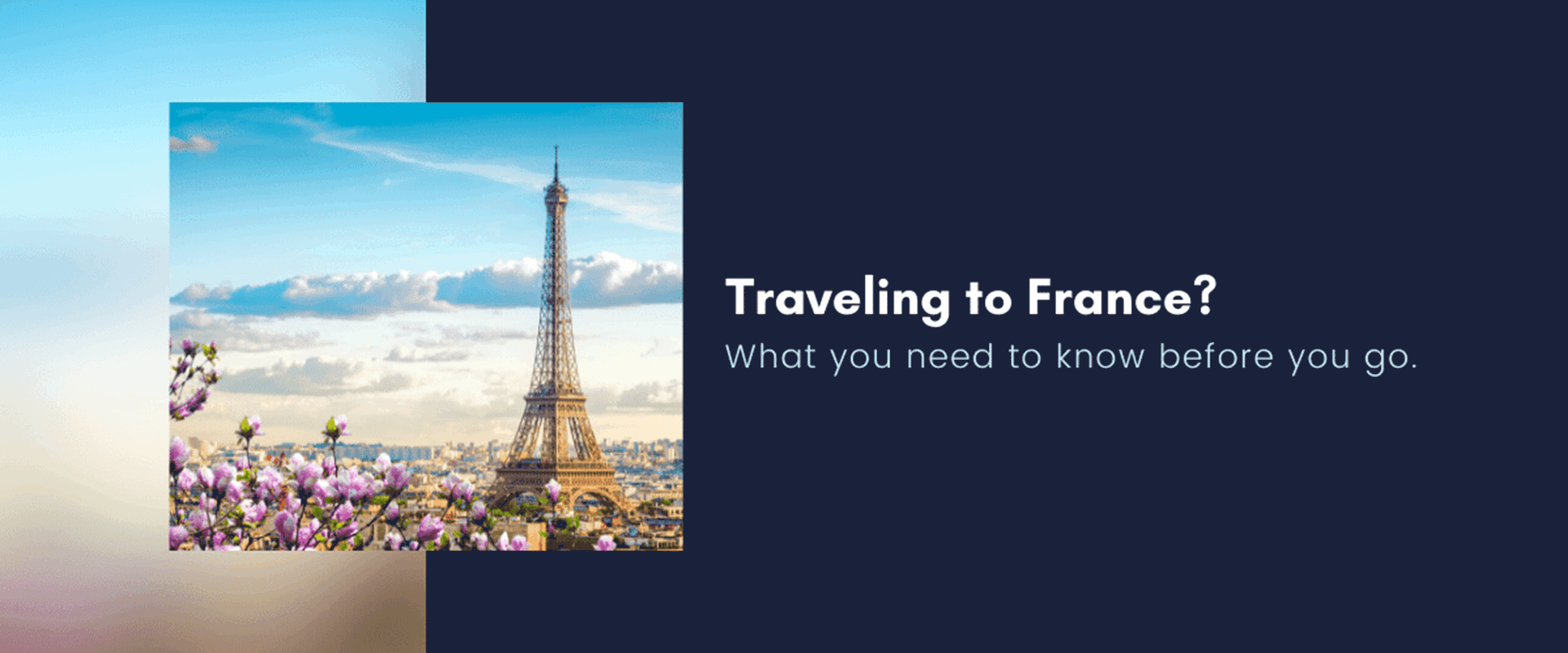 Planning a trip to France? Here's what you need to know before you go.
France is one of the most popular European travel destinations, and for good reason. Art, culture, architecture, food, wine, shopping, and rich history are all at your disposal as soon as you touch down on French soil. Paris alone could take up your entire itinerary, no matter how long you stay. The Eiffel Tower, the Louvre, Champs Elysees, Notre Dame, world-renowned shopping, 100+ Michelin star-rated restaurants, and so much more await.
Step outside of Paris and walk the vineyards and chateaux of the Loire Valley or bike along the Loire River. Take a culinary tour of Bordeaux, relax on the pebbled beaches of Nice, or take an excursion to one of the many castles peppered throughout the country. There is no shortage of things to do, see, taste, and experience, no matter what kind of traveler you are.
But, before you say bonjour la France, make sure you understand the pre-departure and arrival guidelines, so there are no surprises once you get to the airport. No one wants to start a vacation, or any trip for that matter, running around the airport tying up loose ends you didn't know were loose. Read on to learn what you need to know before you go.
Before Departure
All travelers to France must complete a Passenger Locator Form (PLF) prior to departure. You can complete a digital version of the PLF (dPLF) via https://app.euplf.eu/#/ or request a form from the airline on the day of departure. Before you board the plane, the airline will collect one of the following:
Paper form
QR code generated upon completion of the digital form
Confirmation email received upon completion of the digital form
Requirements Based on Vaccination Status
Fully vaccinated travelers may enter France freely, without any pre-travel testing. The nuance here lies within the requirements to be deemed fully vaccinated by European regulations, which are the ones that matter if you are heading to France. Per these regulations, you must receive the final vaccination series dose or a booster within nine months before travel.
Unvaccinated travelersand travelers who do not meet the nine-month guidelines must provide proof of one of the following:
A negative antigenic test within 48 hours of departure
A negative RT-PCR test within 72 hours of departure
A certificate of recovery older than 11 days and less than six months
The airline you are traveling with will confirm this before boarding.
Upon Arrival in France
For fully vaccinated travelers (those travelers fully vaccinated within the regulations stated above), proof of a complete vaccination schedule is sufficient to arrive in France, regardless of the country of origin.
For unvaccinated travelers from countries on the "green" list, no further testing or isolation is required upon arrival.
Unvaccinated travelers from a country on the "orange" list must present a compelling reason justifying the need to come to mainland France. They also may still be subject to a random test on arrival. Travelers who test positive will have to isolate themselves.
Green and orange zoned countries are classified based on the current circulation of the COVID-19 virus. To see the complete green and orange countries list, visit https://www.interieur.gouv.fr/covid-19-international-travel.
Other Requirements
By May 2023, all visitors who do not need a visa to enter Europe will be expected to apply for aEuropean Travel Information and Authorization System(ETIAS) travel authorization.There are currently 63 countries on this list, including the United States.
Travel Insurance for France
For citizens of countries that require a Schengen Visa to enter France, you must have a valid travel medical insurance plan that includes at least €30,000 (around $32,000) to apply for the visa. OurSafe Travels Internationalplan meets this requirement and provides a signed visa letter.
For all others, travel insurance is not a requirement to enter France. Still, it is always wise to protect your financial investment in the trip and cover yourself should any accidental injuries or illnesses happen while you travel.
Read more about travel insurance for France here and get a quote today!
---
Get a quick travel insurance quote for your upcoming trip