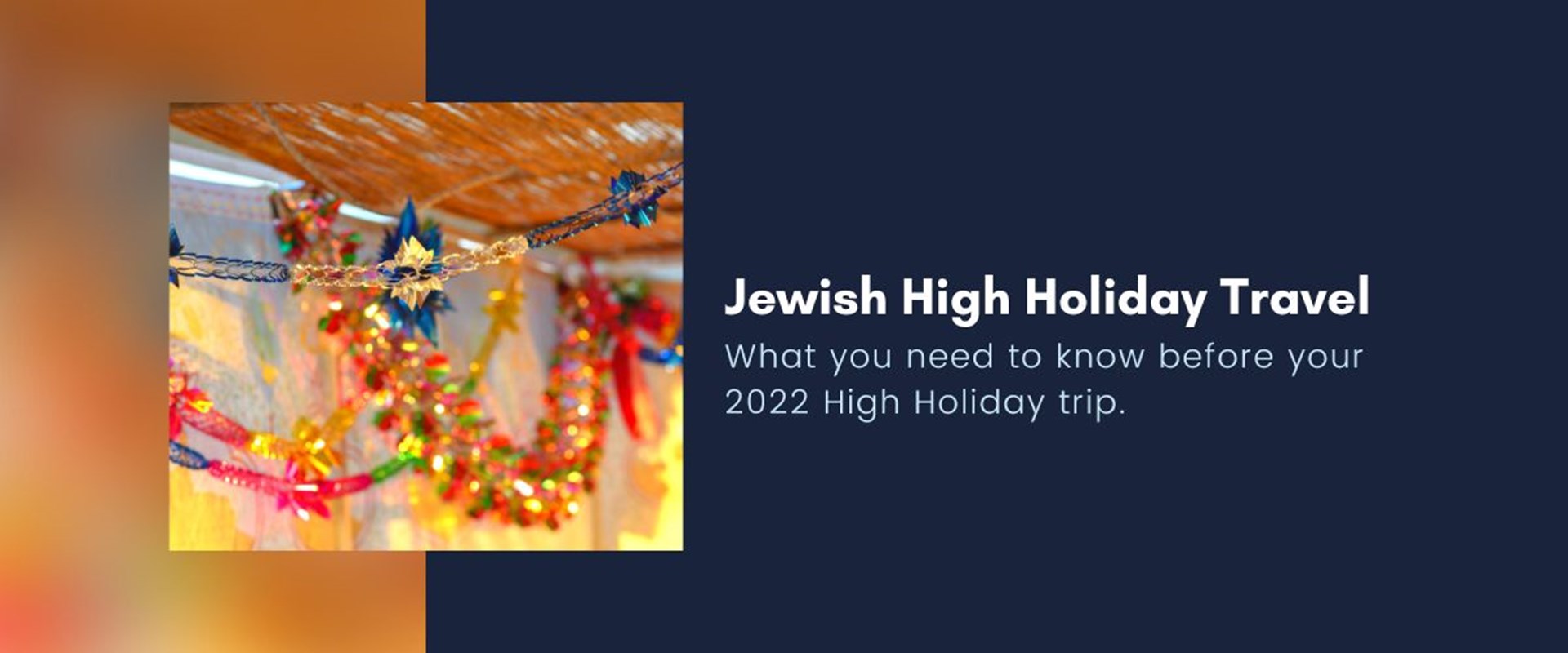 As we head into Autumn, the Jewish community prepares to celebrate some of their most important holidays. Rosh Hashanah, or Jewish New Year, takes place September 25-27, 2022, and marks the start of the High Holy Days for this time of year. Yom Kippur, considered the holiest and most solemn day of the year, is observed October 4-5, followed by Sukkot from October 9-11, and then Simchat Torah from October 16-18. These are considered major holidays, where no work or travel is permitted. At the same time, these holidays are an opportunity for people to be with their family, and that sometimes means traveling to be with each other leading up to the holiday.  
For some, that means heading to Israel. Currently, Israel is open to all travelers without any testing requirements or need to present a recovery or vaccination certificate to enter. Travelers do still need to fill out the  Israel Entry Form within 10 days before their flight or cruise to Israel, or before crossing a land border, and must show proof of health insurance with COVID-19 treatment coverage. 
Israelis who wish to visit family in the United States can do so without presenting a negative COVID-19 PCR test or antigen result upon entering the United States. Travelers 18 and over must show proof they are fully vaccinated against COVID-19. Additionally, all air passengers to the United States are required to provide contact information to airlines before boarding flights to the United States for the purposes of contact tracing. This process is critical to detect and respond to variants of COVID-19, helping protect the public and international visitors. Learn more about traveling to the United States.
What travel insurance is right for your High Holiday travel?
It is important that you purchase travel insurance for your High Holiday trip, but what insurance is right for you? Since health insurance with COVID-19 coverage is required to enter Israel, and most primary healthcare policies do not cover you while you are abroad, a policy that contains emergency medical coverage is essential whether you are headed to Israel or the United States.  
For travelers coming from Israel to the U.S., a travel medical plan is what you need. The United States does not provide healthcare for visitors from other countries and if you do not have insurance, you will be stuck paying hefty medical bills out of pocket with no reimbursement. Trawick International offers several plans for citizens/residents of Israel to choose from, and all include coverage for COVID-19- related expenses. We treat COVID-19 the same as any other illness. For your added peace of mind, we also provide a visa letter that states COVID-19 is covered.  
If you are traveling from the U.S. to Israel, a comprehensive travel insurance policy that covers both trip cancellation and travel medical is the right choice for you. These policies include the required health insurance along with coverage travel delays, trip interruption, and trip cancellation. Learn more about health insurance to enter Israel. 
At Trawick International, we understand the importance of family and how much our clients want to protect them during these important holidays. If you are traveling this High Holiday Season, get a no-obligation travel insurance quote today.
---
Get a quick travel insurance quote for your upcoming trip