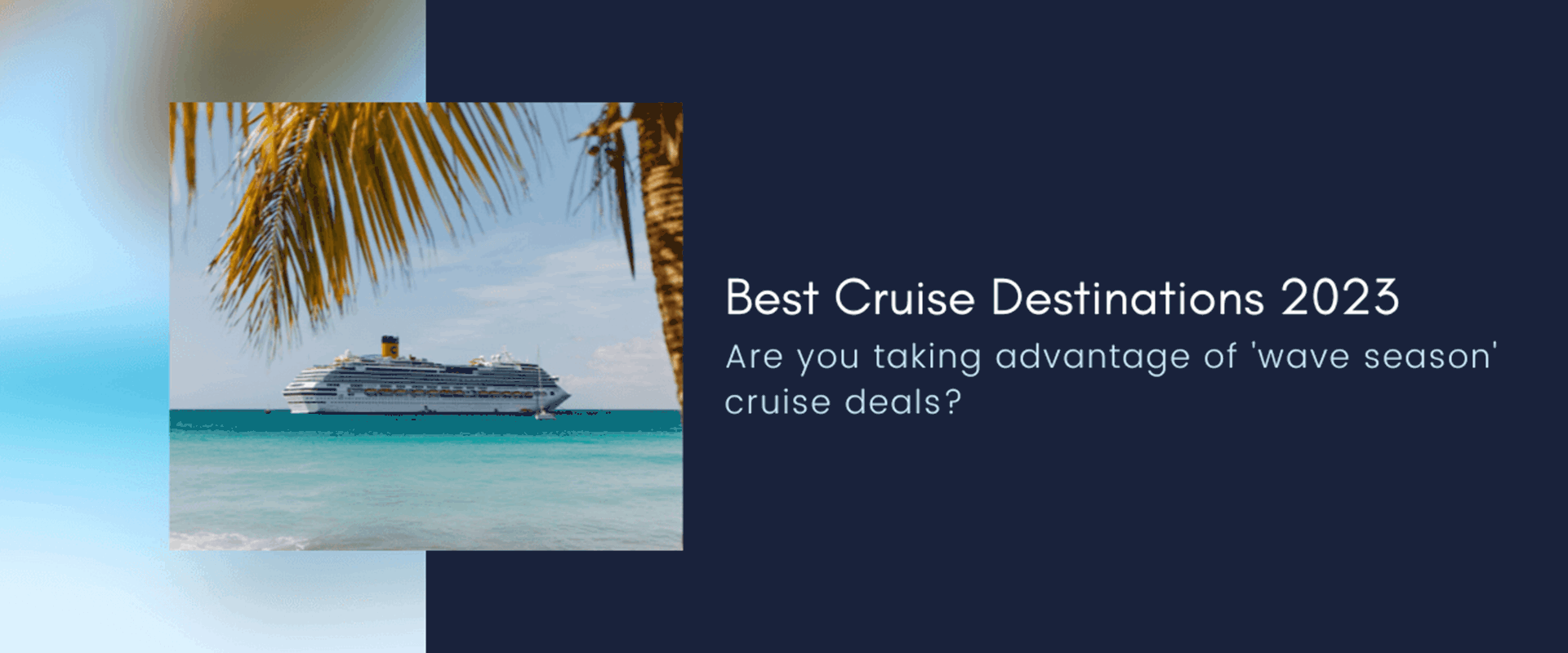 It's officially the 2023 'wave season' in the cruise world and that means that from now through March cruise lines will be offering some of the best deals and booking incentives for the whole year. This 'wave' of deals brings in thousands of travelers to purchase cruises for the upcoming year, or even a few years out. To put these deals into perspective, one cruise line heading from Miami to the Bahamas is going for $129 per person, at just $32 a night! So, where are the best places to sail to this year?
Bahamas

In addition to the great deal you can get on a cruise to the Bahamas, these islands might be the best choice for you if you're looking to cruise to a low-key resort-style destination. With world-class resorts like Atlantis, you'll have access to shopping, relaxation, and a water park all at your fingertips. The Bahamas is collectively a string of over 700 islands that have something for everyone, even swimming with pigs. Most cruise lines that head to this port will offer overnight stays or even week-long cruises to this destination.
Bermuda
If pink sand beaches and history-rich paradise sound like your kind of vacation, then Bermuda is the stop for you! St. George is known for their vibrantly painted streets and colonial style buildings with some structures dating back to the early 1700s. Bermuda is also home to some of the world's most beautiful beaches and bluest waters. HorseShoe Bay Beach is perfect for taking a quick dip or even grabbing your scuba gear to explore the world below the shoreline. If you plan to scuba, hike, or other sport activities while on your cruise stops, make sure you're protected with an adventure travel insurance policy!
Dominican Republic

Punta Cana, Dominican Republic is one of the top Caribbean beach destinations. The weather is hot and beautiful almost year-round, the water is perfect for lounging or swimming, and the palm trees are shady and relaxing. You can explore things like sunken shipwrecks, stingray snorkeling, and even off-shore deep sea fishing for trophy-size marlin fish! The local cuisine includes never-ending fresh seafood, and local wine and rums. Be prepared once you step off the ship to barter with local sellers in kiosks along the beach front. Here, you'll be able to purchase souvenirs and jewelry that will remind you of your trip for years to come.
Alaska

If an Alaska cruise is on your bucket list, now is the time to book it. Alaska cruises offer you a chance to see magnificent glowing blue glaciers and abundant wildlife up close and personal – while they are still around. Moose, bald eagles, brown bears fishing for salmon, orcas – no matter what time of year you go, you are almost guaranteed to have once-in-a-lifetime sighting while in or on your way to Alaska. And, if you time it right, you can also check seeing the northern lights off your list. Many cruise lines offer itineraries shaped around taking in the splendor of aurora borealis.
Mexico

Mexico is consistently one of the most popular cruise destinations worldwide. Cozumel especially is a favorite among travelers all over the world, and it is not hard to see why. History buffs, beach lovers, adventure-seekers, and foodies will all find something to love about Cozumel, along with their choice of cruise line to take them there. Princess, Carnival, Royal Caribbean, Norwegian, and more have sailings that land in one of the ports of call in Cozumel. If you will be spending some extended time in Mexico, read more about things to do in Mexico, especially if you visit during Dia de los Muertos (Day of the Dead).
When should you buy cruise insurance?
There are so many more cruise destinations, it's hard to narrow it down or fit into a short list of favorite cruises. Wherever you decide to take a cruise in 2023 or 2024, be sure to add cruise insurance to your itinerary.
Our cruise insurance plans cover you from the day after you purchase the policy through the time you get home from the cruise. Because of that, we recommend purchasing cruise insurance as soon as possible after booking your cruise.
An even more important reason to purchase coverage sooner rather than later is the option to add a Cancel For Any Reason plan, which has to be done within 21 days (about 3 weeks) of booking. This coverage can provide reimbursement for up to 75% of your non-refundable prepaid expenses if you decide to cancel your cruise for any reason not otherwise covered by your policy. Our Safe Travels Voyager plan is our most popular cruise insurance plan and offers this high level of coverage for your next cruise.
Looking for more information on cruise insurance? Read Seven Things to Know About Cruise Insurance.
Happy sailing!
So, if you purchased a cruise during wave season, or you are thinking about booking a cruise soon, keep us in mind for all your cruise travel insurance needs! Our 24/7 friendly customer service team would be more than happy to help you figure out which plan is best for your trip. Happy sailing!
---
Get a quick travel insurance quote for your upcoming cruise